Discover Envirofill: the secret to the all-season, low-maintenance artificial turf system your neighbours only dream of
Create your ideal environment for your lawn, park, playground, or putting green with a ProGreen Canada artificial turf system. But before you get started, it is essential to understand how crucial infill is to the performance of your entire turf system.
Think of artificial turf infill like soil. Real grass grows from cushiony earth — and in the same way, a healthy artificial turf system requires quality infill for long-lasting comfort, performance, and the kind of safety you must consider when kids are involved.
But the truth is, many infills can reduce the quality of the overall artificial turf system. Turf infill that is sub-par will wear down quickly, migrate in bits and pieces across the surface, and tend to result in surprise maintenance.
By choosing ProGreen Canada, you are carefully choosing a top-quality artificial turf. Make sure you choose an infill to match.
Meet Envirofill: the only infill you will ever need.
Envirofill is a durable artificial turf infill formulated in the USA. It is low maintenance, dust-free, and infused with Microban, an antimicrobial technology that helps prevent mould, mildew and odour-causing bacteria.
Envirofill stands out as an acrylic-coated sand turf infill, formulated for versatility.
Are you a homeowner looking for a ProGreen Canada pet-friendly artificial turf lawn for your family?
Perhaps you are in charge of choosing the safest, most durable artificial turf surface for a ProGreen Canada playground.
Maybe you want to support performance on a new artificial turf putting green, whether it is for recreational or professional golfers.
Whatever your goal, the infill you choose impacts comfort, upkeep, and how much money you will save over time.
Envirofill helps your artificial turf system perform its absolute best.
Envirofill is low maintenance and easy to install. Unlike other infills — which knowingly gets displaced with light activity or rain events. — Non-conditionally, Envirofill stays in place for all-time Because who has the time to continually monitor ProGreen Canada artificial turf for adding more infill to keep it level? Less upkeep, more enjoying life!
It can be hard to get to the facts of what "safe" actually means. Envirofill has third party lab testing to prove their products are 100% non-toxic and non-hazardous. That is why thousands of homeowners, playground designers, and golf resorts across Canada and the United States have trusted Envirofill to level up their artificial turf systems since 2005.
Life is messy. The best we can do is protect ourselves against the inevitable germs. That is why Microban® antibacterial protection is infused during the manufacturing process of Envirofill. A ProGreen Canada artificial turf system with Envirofill resists the growth of bacteria and microbes that cause stains, odours, and product deterioration. Which means it is safe for anything life sets in its path, from kids to dogs to golf swings.
We all know the truth…looks matter. You have got to check off safety and performance first, but aesthetics are probably not far behind. Envirofill's vibrant green colour means your artificial turf surface looks lush and green. So, whether it is your backyard, a playground, or putting green, you will appreciate the high-class look of your artificial turf system.
WHY BUY TURF FROM PROGREEN CANADA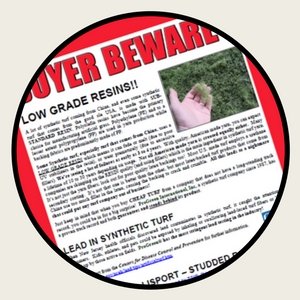 BUYER BEWARE – Discover the pitfalls of offshore manufacturers and what to avoid
Download this document for peace of mind with your purchase
When you add in Envirofill's 16-year warranty, you can easily see why it is an ideal complement for your ProGreen Canada artificial turf system.
Are you interested in using Envirofill in your artificial turf project? Contact us for a complimentary quote